Our philosophy at Twinbrook Animal Clinic, Inc. is to Treat all patients with the highest levels of compassion and understanding; Work hard to provide the highest quality care available; Inform and actively involve all clients in the treatment and care of their pets; Never be afraid to go the extra step to improve the patients' quality of life; Bring owners and their pets closer together; Remain dedicated to the continuous education of our staff on the most recent and advanced techniques in veterinary medicine; Offer preventative health care for the optimal maintenance of the health of our patients; Operate in a courteous and efficient manner and Keep the patients our top priority at all times.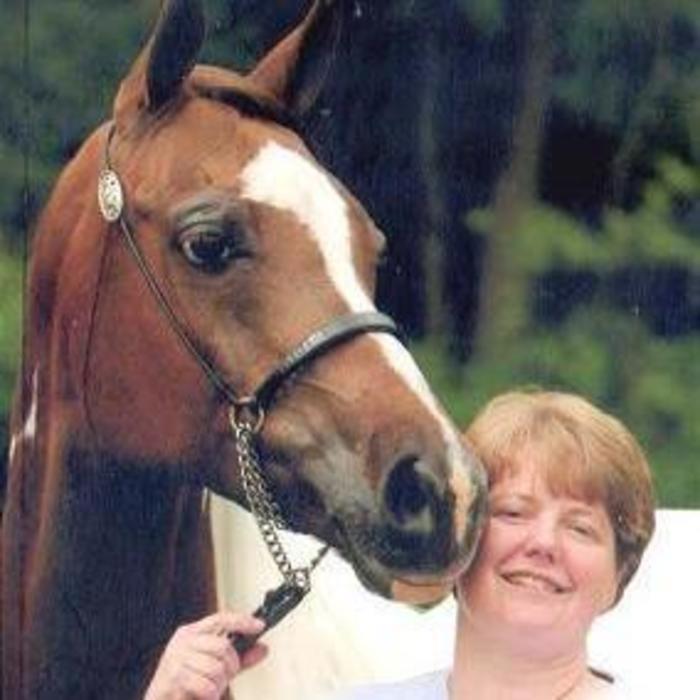 Dr. Janine Callen
DVM, CCRT, CMT
Dr. Callen is the owner of Twinbrook Animal Clinic, Inc. She is a 1994 graduate of Purdue University College of Veterinary Medicine. She practiced in Vermont for 2 years, then in Pittsburgh for 1 1/2 years before purchasing Twinbrook Animal Clinic, Inc. in 1997. Dr. Callen studied Physical Rehabilitation with the University of Tennessee and the Canine Rehab Institute and is a Certified Canine Rehabilitation Therapist as well as a Canine Massage Therapist. She provides Rehabilitation Services through Therapeutic Options at Twinbrook Animal Clinic, Inc. Dr. Callen lives with her husband, 4 dogs, 1 cat and 3 horses. If she has spare time, she enjoys trail riding and Cowboy Mounted Shooting.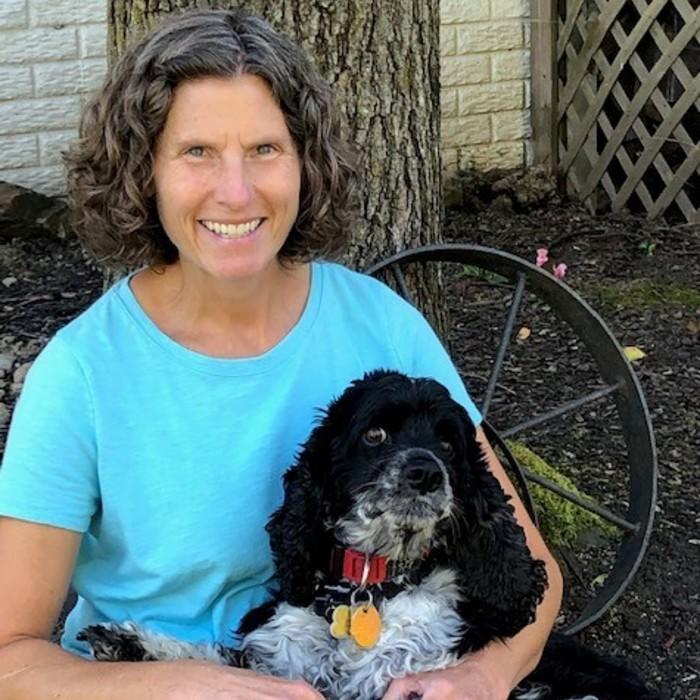 Dr. Laurie Schessler
DVM
Dr. Laurie Schessler has been an Associate Veterinarian with us since August 2003. She received her Doctor of Veterinary Medicine degree from Purdue University College of Veterinary Medicine in 1995. Dr. Schessler worked as a small animal practitioner in the surrounding Pittsburgh area for 8 years prior to joining the Twinbrook team. She lives with her husband (also a veterinarian), 3 children, a dog and a cat. Dr. Schessler keeps busy with her children's activities and also enjoys running, camping, being outdoors, scuba diving and spending time with her family.
Dr. Shawna Rau
DVM
Dr. Shawn Rau has been an Associate Veterinarian since June 2008. She received her undergraduate degree from Cornell University and Doctor of Veterinary Medicine degree from The Ohio State University in 1998. After graduation she worked in a small animal practice in Boston for 6 1/2 years before returning to her hometown of Pittsburgh. She lives with her 2 dogs, 2 cats, 2 lizards, 1 snake, and 8 tanks full of fish. Dr. Rau keeps busy with her family enjoying all indoor and outdoor activities and sports (as a spectator and participant), good food, and taking advantage of all the great arts and entertainment of Pittsburgh.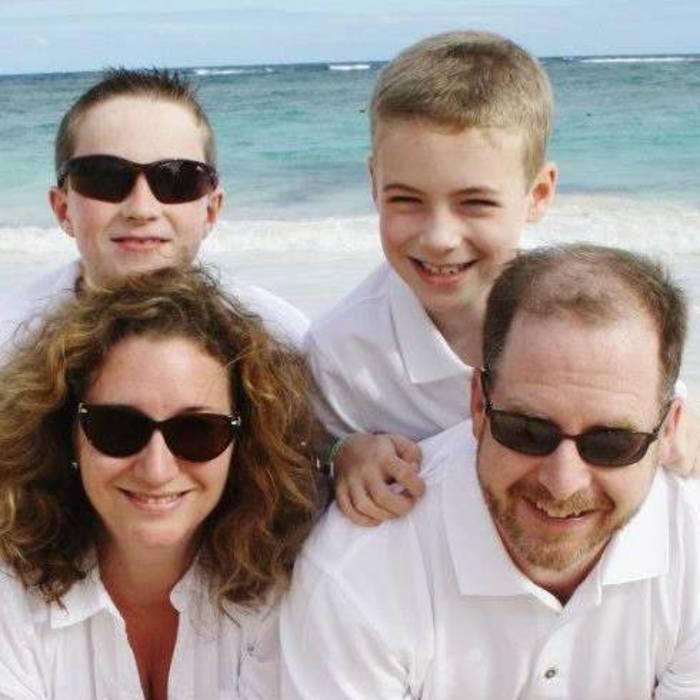 Dr. Leeann Oliver
DVM
Dr. Leeann Oliver as been an Associate Veterinarian since 1999. She graduated from Tufts University of Veterinary Medicine in 1996. She has lived and practiced in Butler County since graduation. Dr. Oliver lives with her husband, 2 sons, a dog, and a cat. She is interested in many aspects of traditional medicine.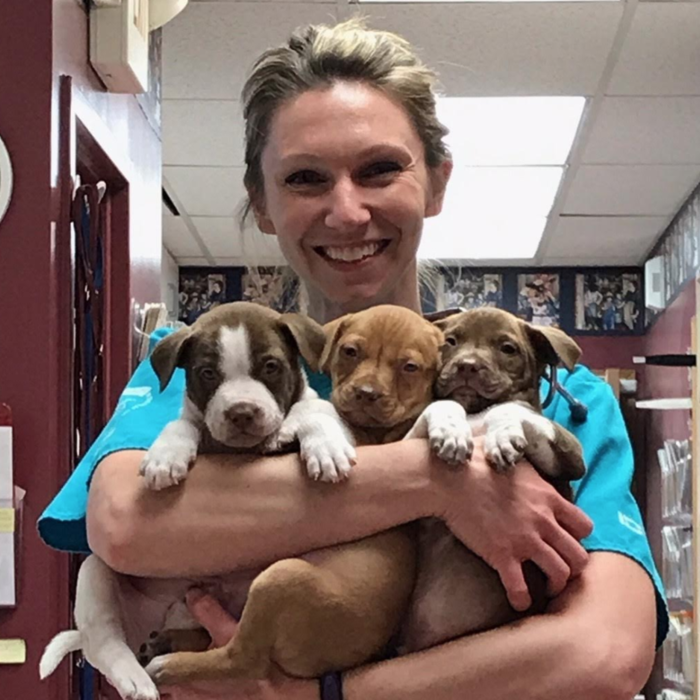 Dr. Abigail Davidson DVM
Dr. Abigail Davidson has been with our team since 2006, first as a veterinary technician and more recently as the newest doctor added to our practice. She graduated in 2016 from Ross University School of Veterinary Medicine on the island of St. Kitts (Caribbean) and completed her clinical year at the University College in Dublin, Ireland. Dr. Davidson takes a special interest in feline medicine and plans to further her knowledge and experience in geriatrics, hospice and home care.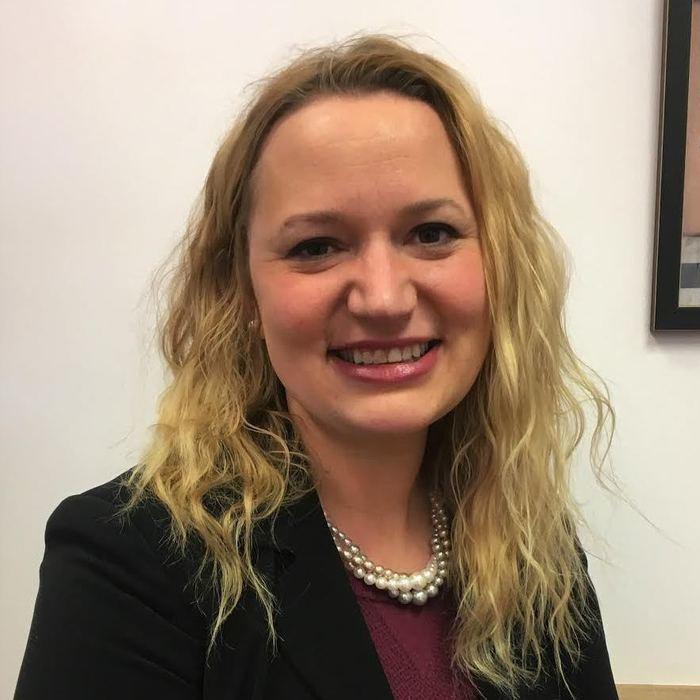 Kathryn
Practice Director
Katy came to our clinic in September of 2017 as the new Practice Director. She was a client of ours for 14 years and brought over 20 years of experience from a zoological and management background. Katy is looking forward to continuously helping our clients, patients, and community by improving our services and developing new programs. She grew up with a variety of pets, but now has a Goldendoodle "Holly", chickens, and snake "Luna. Katy loves the beach, volunteering at schools and her church, sports, and most importantly spending time with her husband, 2 kids, family and 14 nieces/nephews!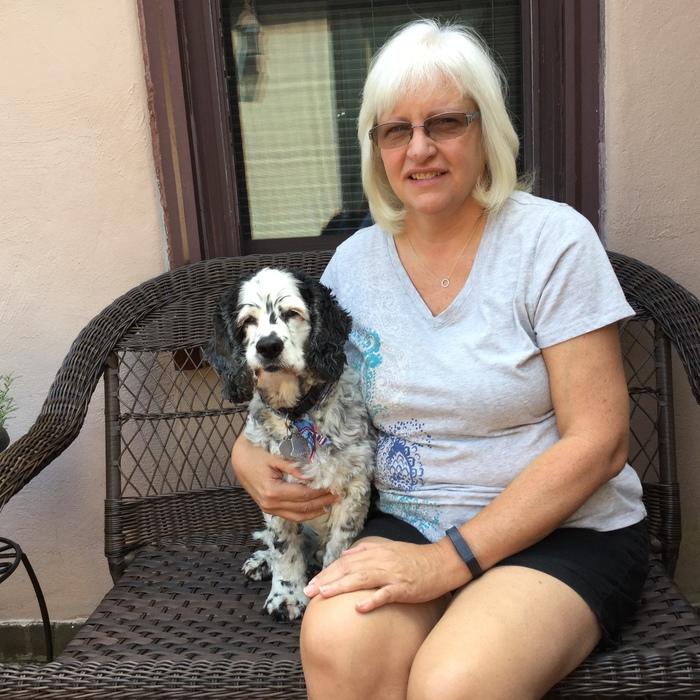 Laurie
Laurie joined Twinbrook Animal Clinic Inc. As a part time receptionist in May 2001. She lives in the Valencia area with her husband, three children, a Cocker Spaniel named Snoopy and a cat named Luna. She loves the beach and camping.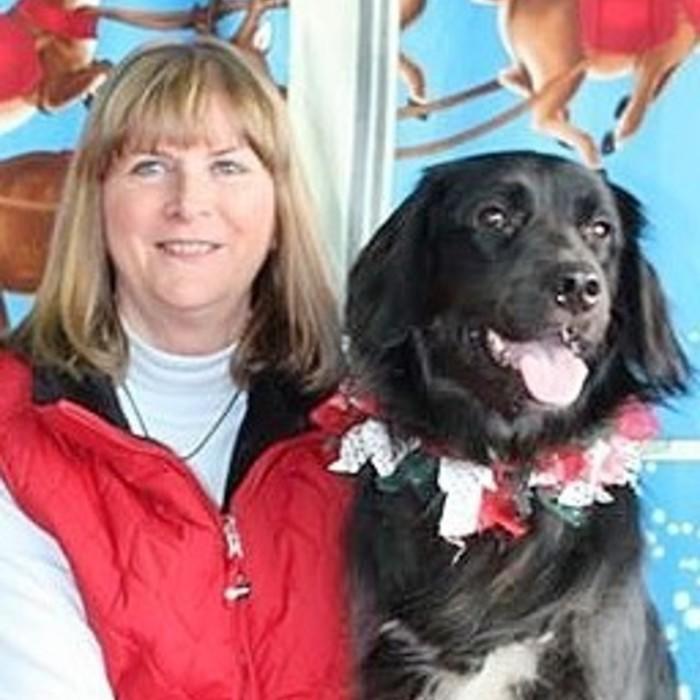 Linda
Linda has worked at Twinbrook Animal Clinic, Inc. as a part time receptionist since June, 1999 Her full time job is in the field of Health Information Technology but insists this is more rewarding. She lives in Butler with her two dogs. Brooks is a Lab/Golden/Setter mix and Jenny Mae is a Pomeranian/Sheltie mix. Linda is active in Agility Trialing and Obedience and belongs to a local training club where she focuses on event planning and agility classes. She enjoys the outdoors, art and photography.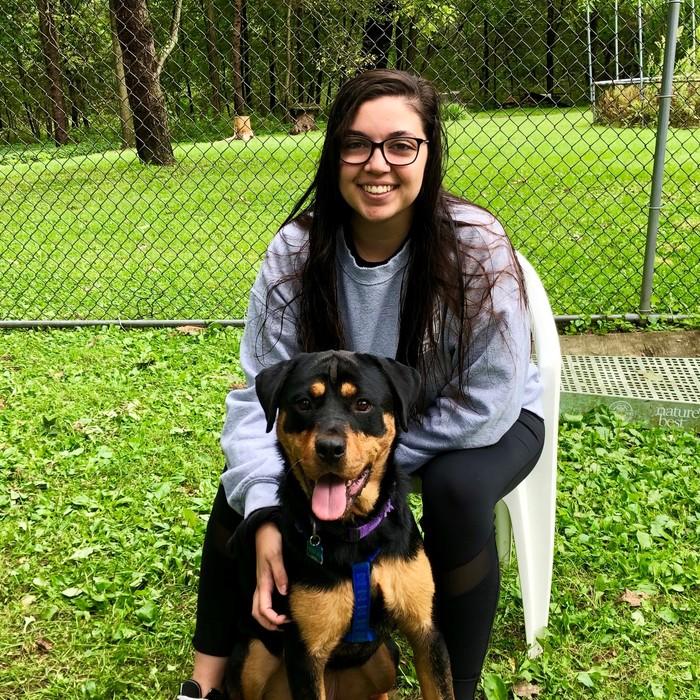 Nicky
Nicky is a part time receptionist who started at Twinbrook Animal Clinic, Inc. in August of 2015. She grew up with animals her entire life and continues to care for even more at our clinic! Nicky is currently a student pursuing her Bachelor's degree in Criminal Justice. In her spare time, she is a volunteer firefighter and EMT.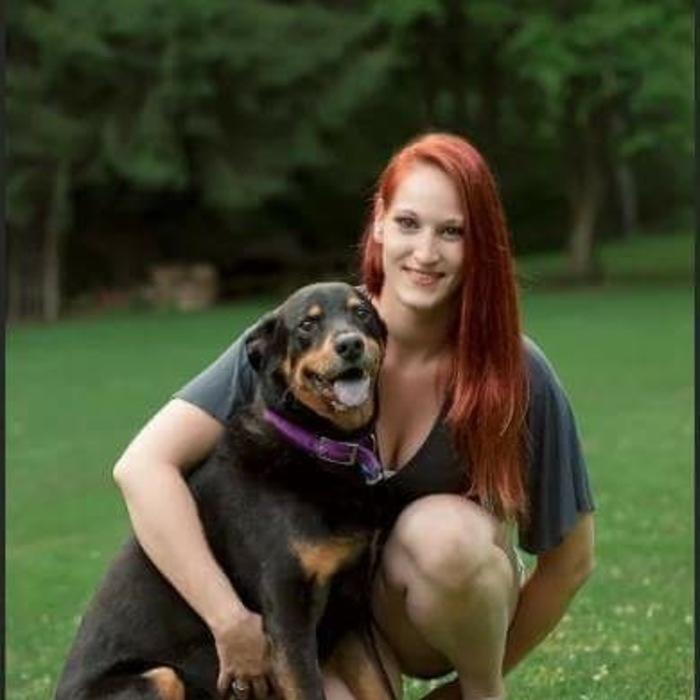 Carly Head Technician
Carly joined the Twinbrook Animal Clinic, Inc. team in May 2012, after attending the Vet Tech Institute, for her first Vet Tech job. Carly has a brown Tabby cat named Tyger and a Maine Coon mix named Felix. In her spare time, she enjoys doing crafts, such as painting and knitting. Carly also loves outdoor activities like camping and fishing. She has played field hockey and club soccer and enjoys watching hockey and football.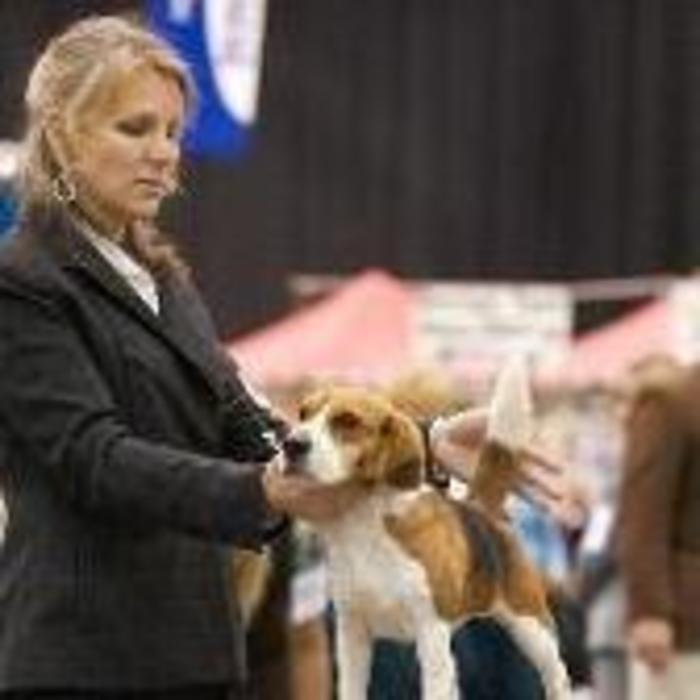 Laura
Laura joined the Twinbrook Animal Clinic, Inc. team in November 2001 as a part time veterinary technician, then became full time in June 2002. Laura is a Certified Canine Rehabilitation Assistant and a huge part of Therapeutic Options at Twinbrook Animal Clinic, Inc. She graduated from LaRoche College with a BS in Graphic Design and upon graduation she moved to Anchorage, Alaska, to work with a Civil Engineering company. She returned to Pennsylvania two years later to continue her career. After raising her family she decided to change careers to pursue her passion in the veterinary field. Laura and her family show Vizslas and Beagles in AKC conformation.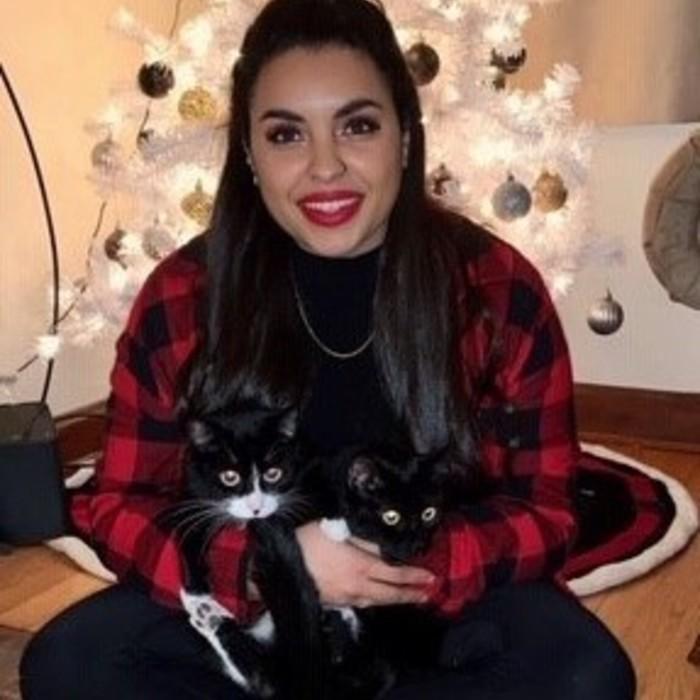 Hannah
Hannah started working for Twinbrook Animal Clinic, Inc team in May 2016. She graduated from the Vet Tech Institute in 2014. She has 2 cats (Malone and Dolan), 2 chinchillas (Willis and Philipae), 1 bearded dragon (Buggy) and 1 old Labrador named Max, who is her favorite. In her free time she enjoys going to camp, boating, outdoor games and hanging out with her grandparents.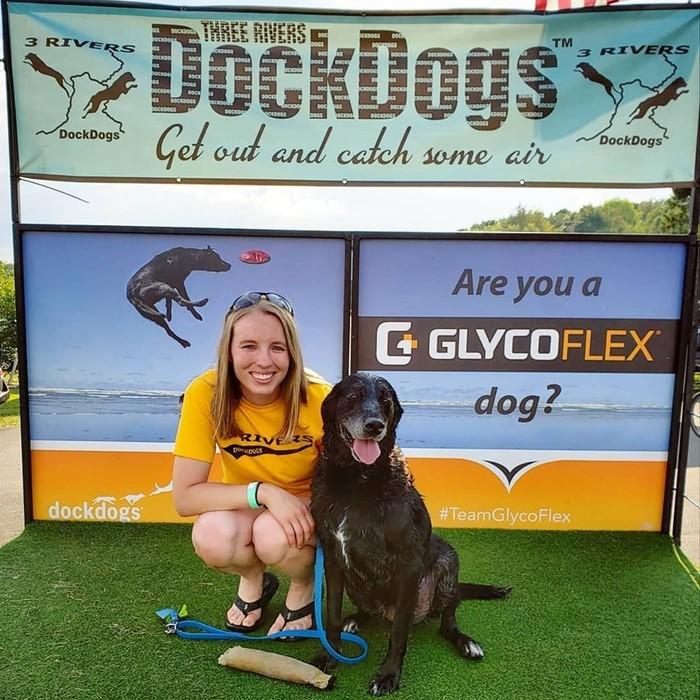 Sarah
Sarah joined the Twinbrook team in August 2012 as part of our kennel staff but also helps to fill in as a technician when needed. She is a 2010 graduate of Thiel College with a BA in Biology and minor in Medical, Wildlife Biology, and Coaching. Sarah has a black Labrador named Luna, a rabbit named Crosby, and 3 turtles. In her free time, she likes to compete in 5K runs and half marathons as well as cheer on the Pittsburgh Penguins and Virginia Tech Hokies! Sarah also works part time as a horticultural laborer at Gumto's Greenhouses, Inc. in Renfrew.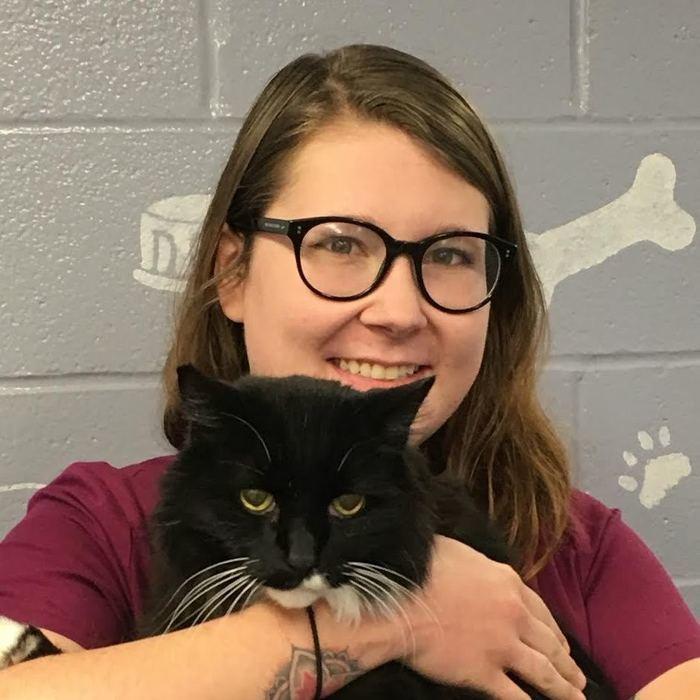 Angie
Angie has worked for Twinbrook Animal Clinic since 2016 as a Kennel attendant but also as a technician whenever needed. Angie attended BC3 and Slippery Rock University where she loved learning about history, art, and science. In her spare time, she enjoys reading, drawing, and being a loyal fan to the Buffalo Bills, Pittsburgh Steelers, and the Penguins! Angie lives with her husband Evan and their tuxedo cat "Borden".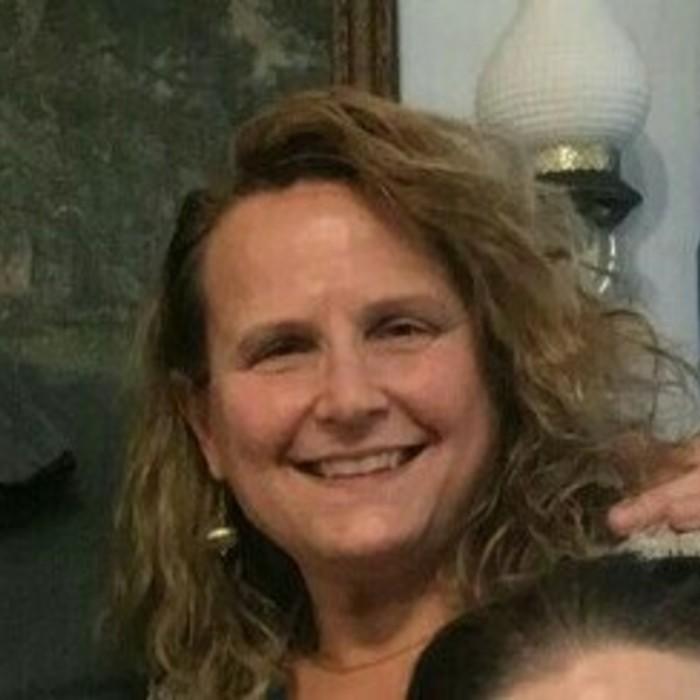 Coralie
Coralie started working at Twinbrook Animal Clinic, Inc. in March 2002 as a full-time receptionist. She graduated in 1979 with a BS in Equine Management. Before returning to the Butler area, she owned and operated a horse training/breeding farm in Michigan for about 20 years. She has a rescued Sheltie named Liam, several cats and Arabian horses. In her spare time, she continues to train horses and give riding lessons.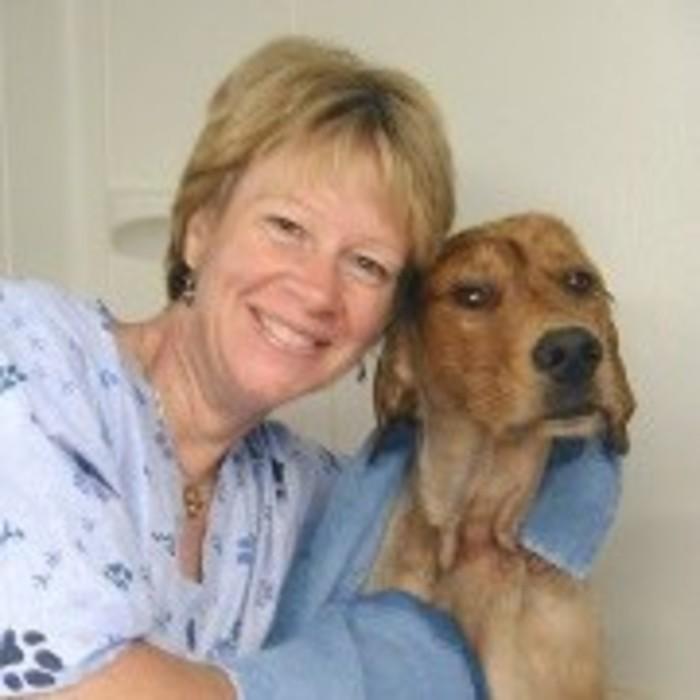 Laurel
Laurel was hired in January 1998, and is the Twinbrook Animal Clinic, Inc. Groomer. She lives in Butler County with her husband, a Retriever and her Wiener (a Dachshund)! Laurel is accomplished at grooming all breed types and is especially good with cat grooming. In her spare time, she's a beekeeper, a musician, and a grandmother of five. She also enjoys yoga, spending time with her grandchildren (they think she's normal!), and she does a great Church Lady impersonation. Isn't that special? Laurel recently added the Grinch to her repertoire.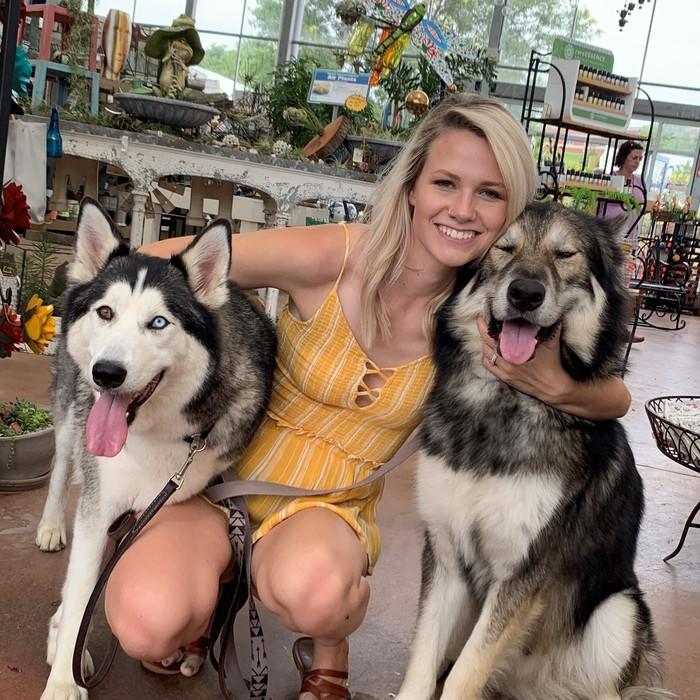 Maddie
Maddie graduated from grooming school in 2015 and has over 6 years of experience in grooming and dog handler experience. She spent the last 3 years in Texas but recently moved back home to PA and started as our new groomer in August 2019! Maddie has 4 dogs: a Husky "Xander", Chihuahua "Taco", Belgian Malinois "Draco", and a Malamute mix "Odin". She also has a retired racehorse named "Teddy"! Maddie accepts new & current clients to our clinic and is available Tuesdays, Thursdays, and some Saturdays for bathing and grooming.