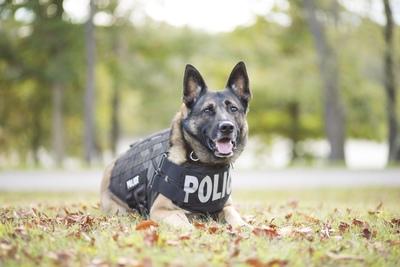 Middlesex Township Police Department's Police Canine is considered a Dual-Purpose Police Dog. K9 Mibo is a 5-year old 75-pound male German Shepherd/Belgian Malinois-mix.
K9 Mibo primarily patrols Middlesex Township, but assists in other parts of Butler County. As part of a 16-dog response group, if needed, the Middlesex Township Police K9 Team can respond anywhere in western and central Pennsylvania.
K9 Mibo's Dual-Purpose capabilities include detection and patrol. His detection work focuses on explosives, guns and evidence; this means he responds to Bomb Threats and Security Sweeps. Since he started working here in Butler County, K9 Mibo has responded to Bomb Threats at the Butler, Mars and South Butler (Knoch) School Districts. In addition, he has helped keep events safe such as the NHL Winter Classic, the Stanley Cup Playoffs as well as NFL Steeler season and playoff games.
His patrol duties are mainly done in Middlesex Township where he accompanies Officer Heider while on-duty; regularly doing after-hours business and night-time residential checks. Among his multiple patrol functions, K9 Mibo has also assisted nearby Police Departments to locate guns and track fleeing suspects, as well as doing searches for alarm calls.
In conjunction with the Department of Homeland Security, PEMA and Region 13, he was acquired from Shallow Creek Kennels in 2014. The City of Pittsburgh-Bureau Of Police-K9
Academy screened, selected, trained and certified K9 Mibo. K9 Mibo and his Handler (Officer Mark Heider) continue to train monthly with Master Trainers with the City of Pittsburgh-Bureau of Police-K9 Academy.
To keep working, the K9 Team has received support from numerous businesses and individuals in the Middlesex, Penn and Butler-areas; one of which is Twinbrook Animal Clinic. Twinbrook's staff has provided all K9 Mibo's veterinary care including annual checkups, shots, flea and tick preventative care and most importantly to K9 Mibo, treats during his visits. Twinbrook Animal Clinic has been instrumental in keeping K9 Mibo healthy with dietary recommendations, exercise suggestions as well as on-duty injury pre-planning.
Credits for Mibo pictures:
Robert C. Olesnevich; website: photos.olesnevich.us; contact: [email protected]
Philip Sam, Ten Four Social; website: tenfoursocial.com
Brett Reynolds, The Dog Stop; website: www.thedogstop.com/trainingcenter